How to use Yomichan with Amazon JP books¶
Requirements¶
An Amazon JP account
A physical Kindle device

Amazon Kindle
Paperwhite
Oasis
Voyage
...other physical Kindle readers.
How to buy Amazon JP Books¶
Amazon JP account¶
To buy books on the Japanese Amazon site, you will an Amazon account on amazon.co.jp that is separate from your local one. It is recommended to use a different email address to register for the Japanese account.
You can switch to the English interface if you are not used to the Japanese one.
The display language does not affect the book selection or recommendations on the site.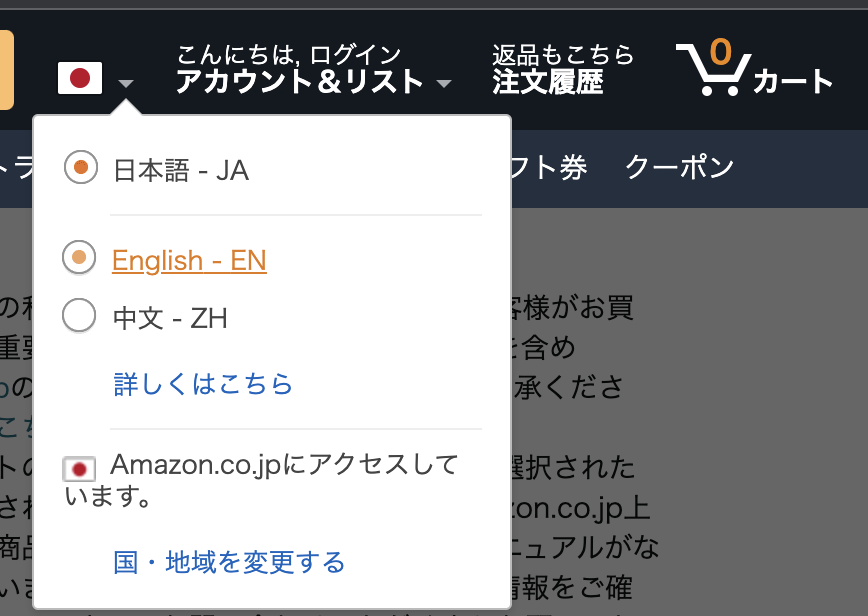 Check the address bar to make sure the web address still uses the amazon.co.jp domain in case you have been redirected to the global site.
Japanese address¶
A Japanese address is required for account registration.
You will get an error if you fill in random numbers since it checks against real Japanese post codes.
You can use services like DANKEBOX to get a free Japanese address and P.O. box.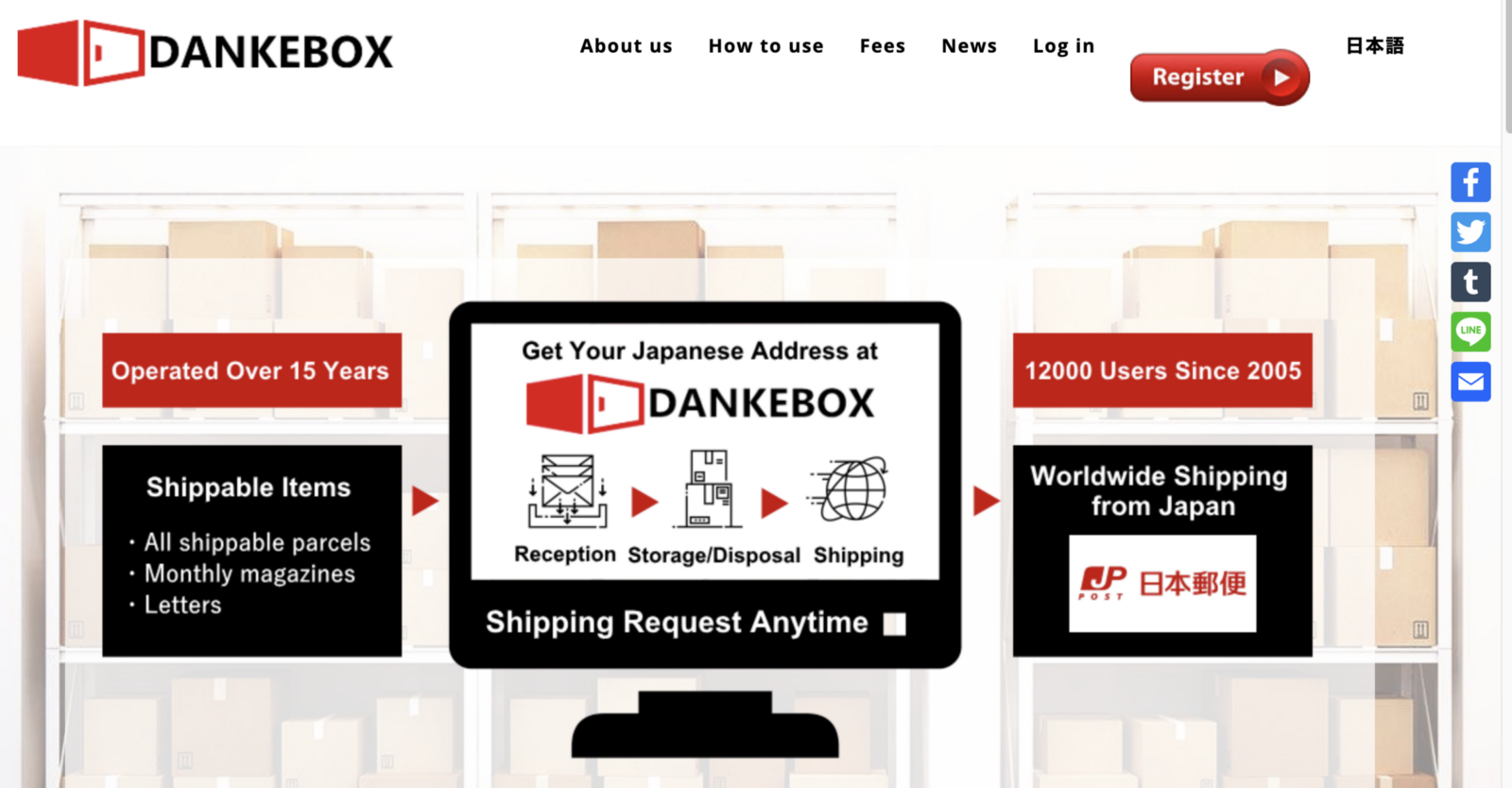 The P.O. box can also come in handy if you plan on buying physical goods on Amazon or other websites like Rakuten and Mercari.
You will have to pay for the shipping cost for DANKEBOX to mail you the items, but it's still great to have access to a much larger Japanese market of new and second-hand items that do not offer worldwide shipping.
Other similar services: Tenso, White Rabbit Express
Japanese VPN¶
A Japanese VPN is usually not required for shopping on amazon.co.jp, but some people have experienced regional issues.
If you see the following message, simply changing your account's region will not resolve the problem.

In this case, consider purchasing a VPN service or hosting your own VPS using tools like Outline VPN.
Buy the Kindle version¶
To read with Yomichan, buy the Kindle (Digital) version of the book.
Download the azw3 ebook¶
Go to amazon.co.jp and head to Your Account.
Select Content and Devices in Digital content and devices.

Locate your ebook and expand the action menu.

Select Download & Transfer via USB.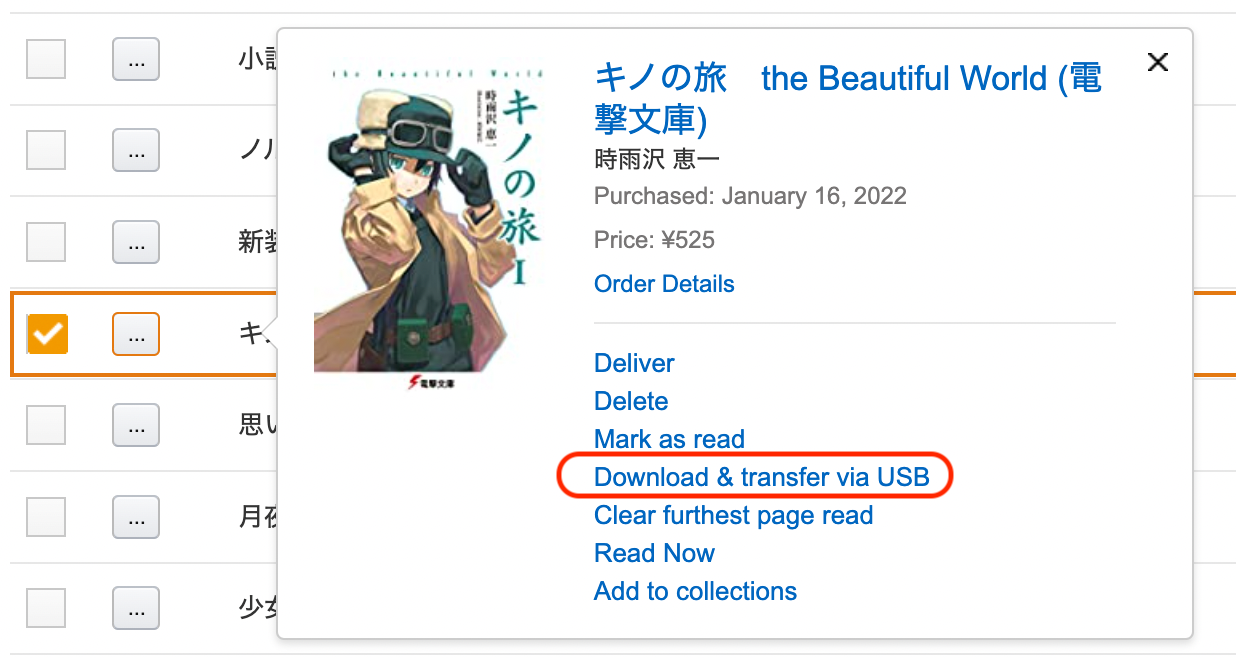 Select your Kindle device. This cannot be a phone or a computer.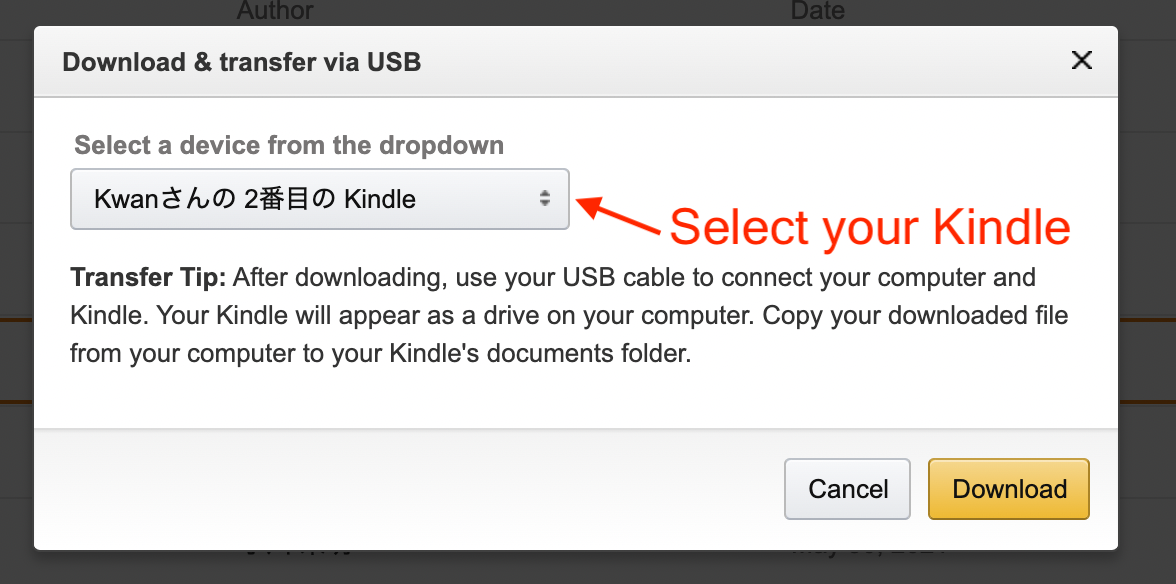 When the download is complete, drag the azw3 file to Calibre.
Convert to EPUB with Calibre¶
Add DeDRM to Calibre¶
Go to DeDRM's releases and download the latest version.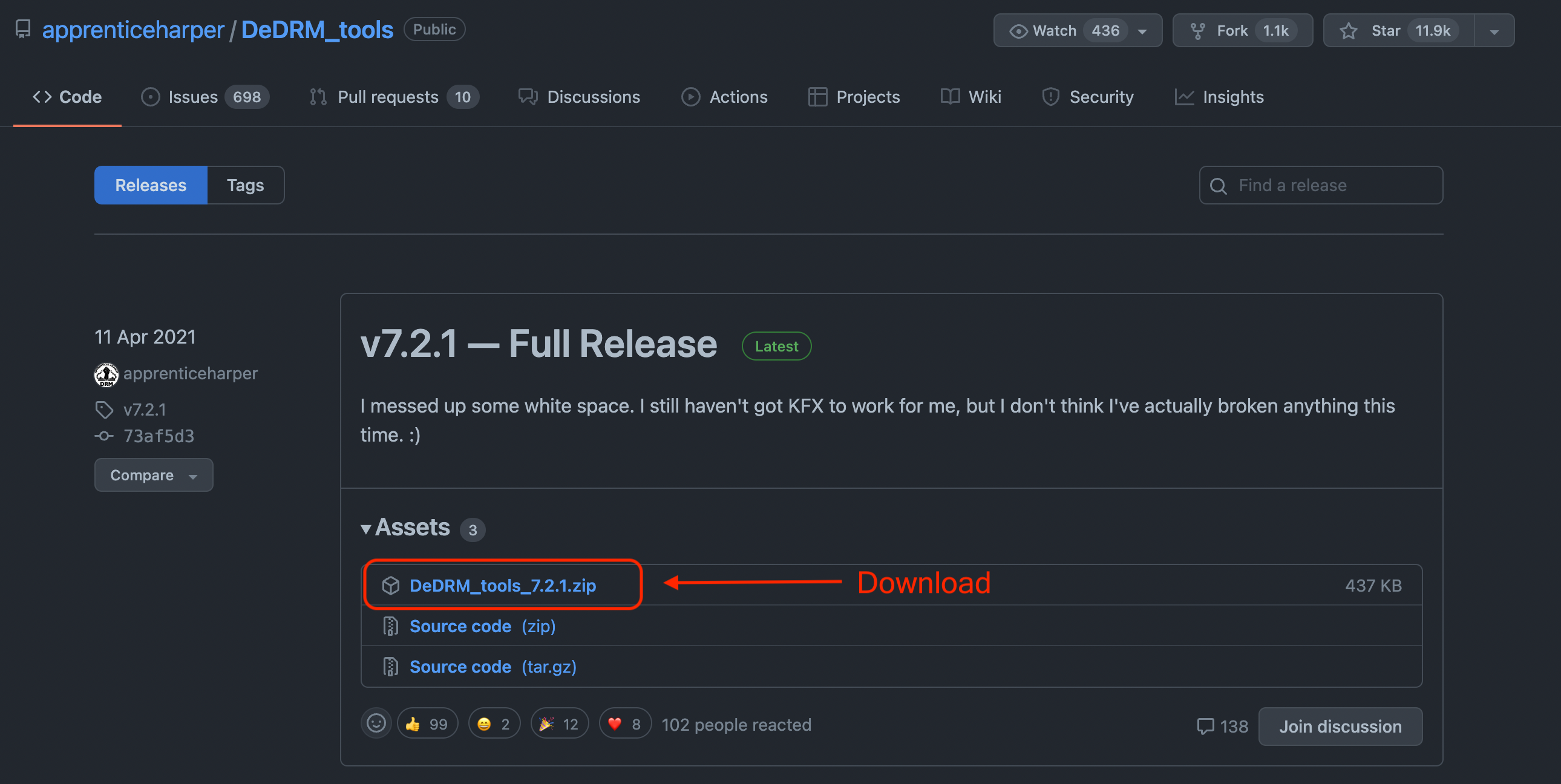 Unzip the DeDRM_tools.zip file. DeDRM_plugin.zip will be in the folder. There is no need to further unzip this file.
In Calibre, go to Preferences > Plugins.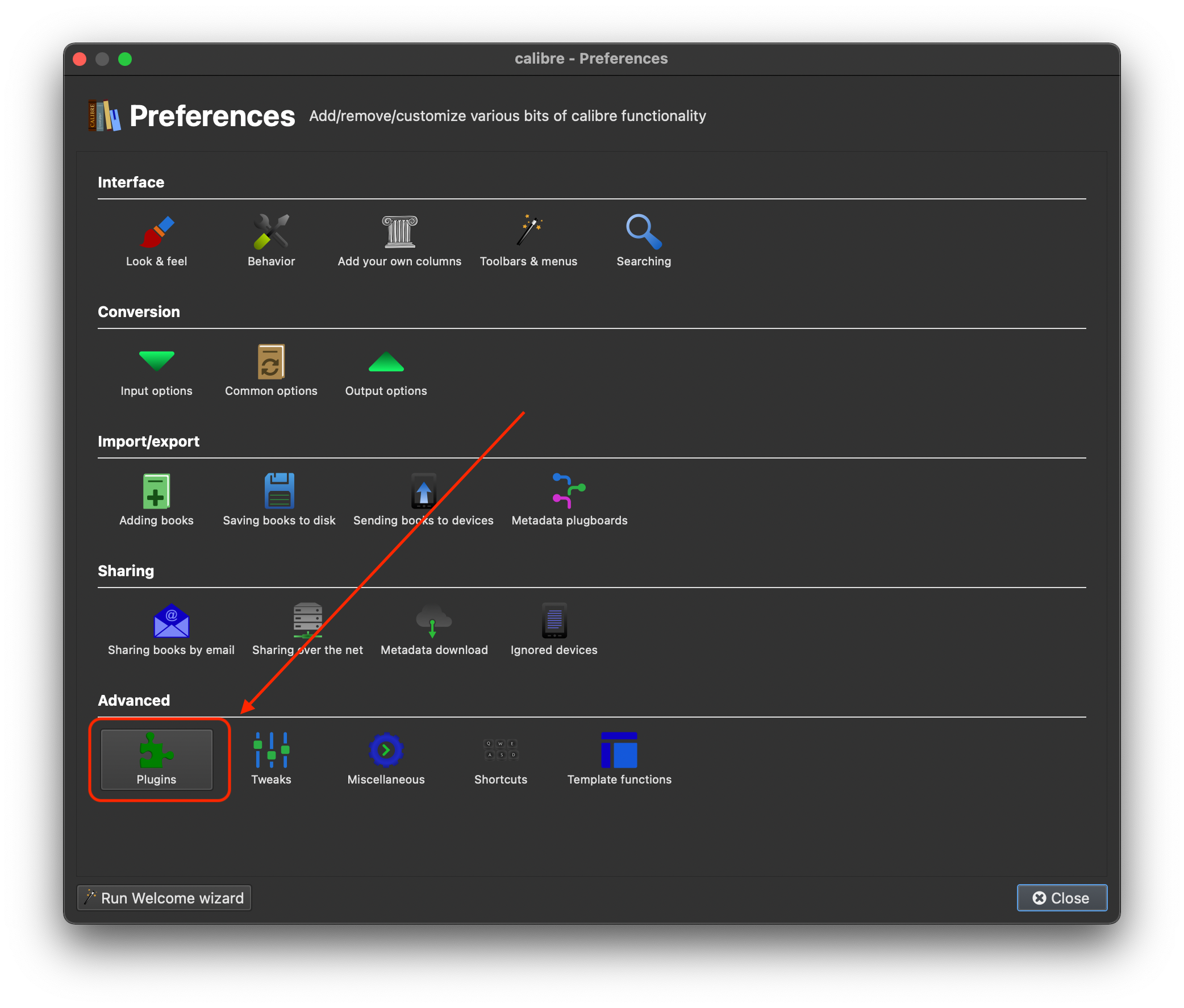 Select Load plugin from file.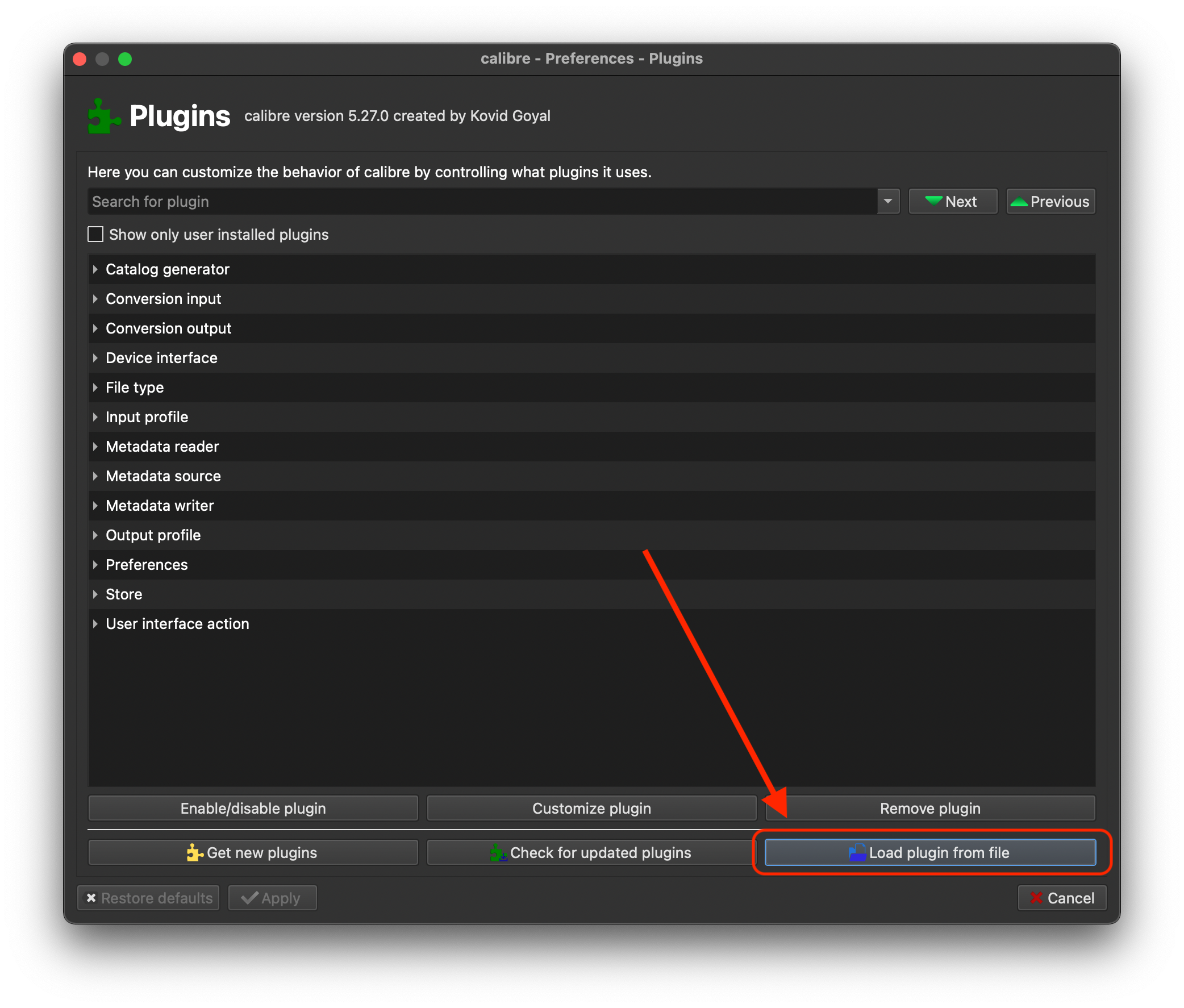 Select DeDRM_plugin.zip.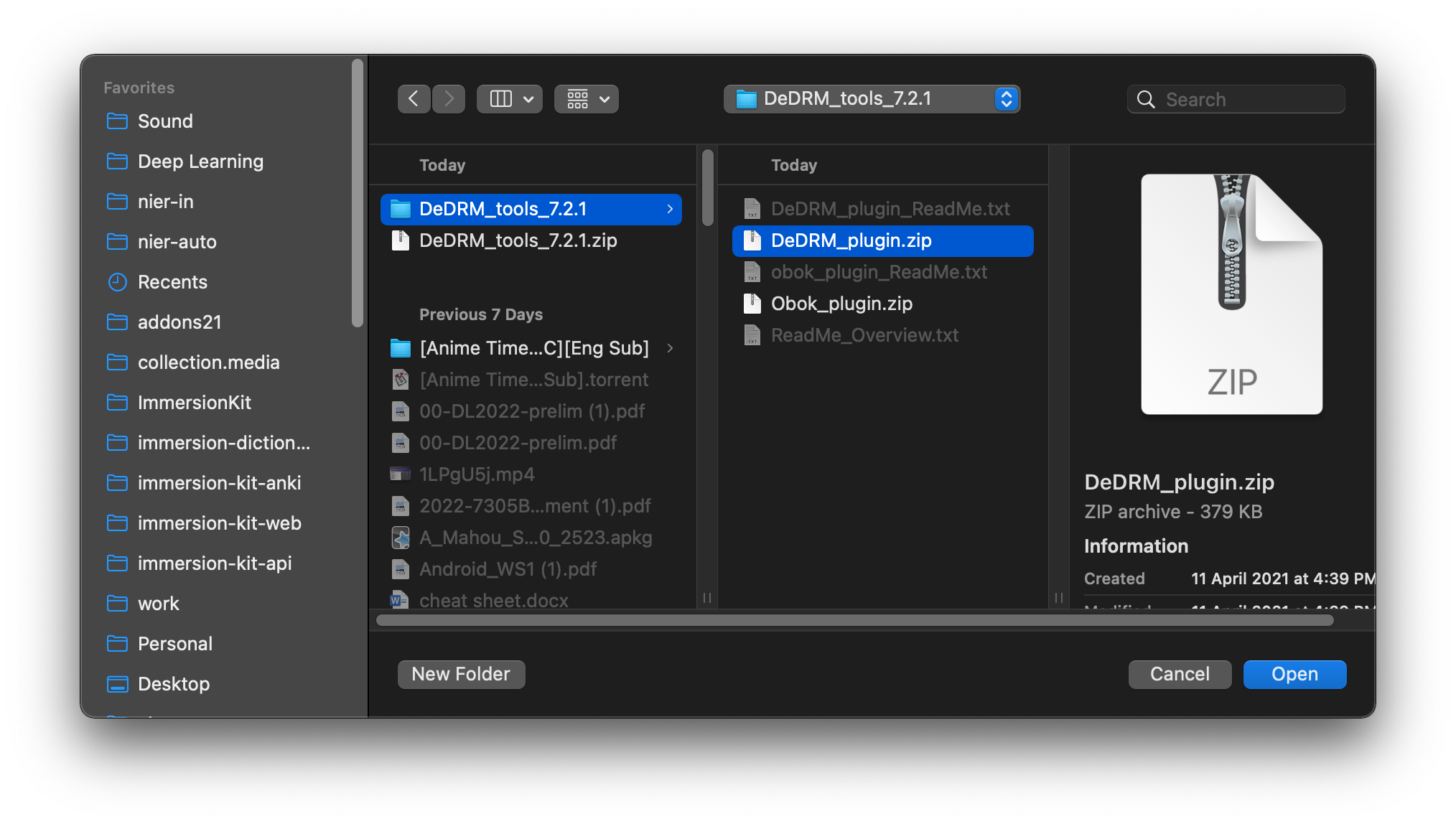 Once added, you can find the plugin here.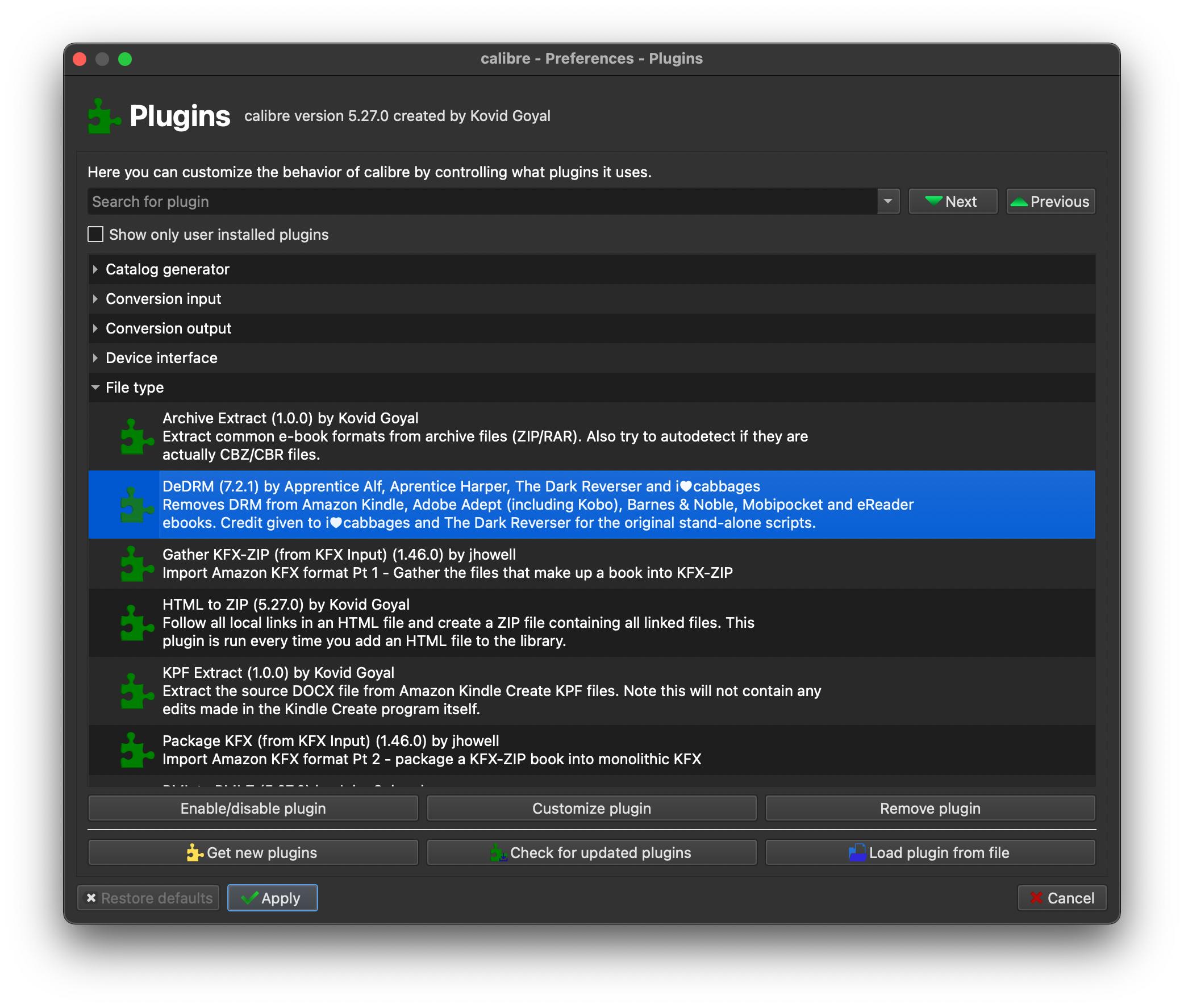 Double click on the plugin to launch its settings.
Select eInk Kindle ebooks.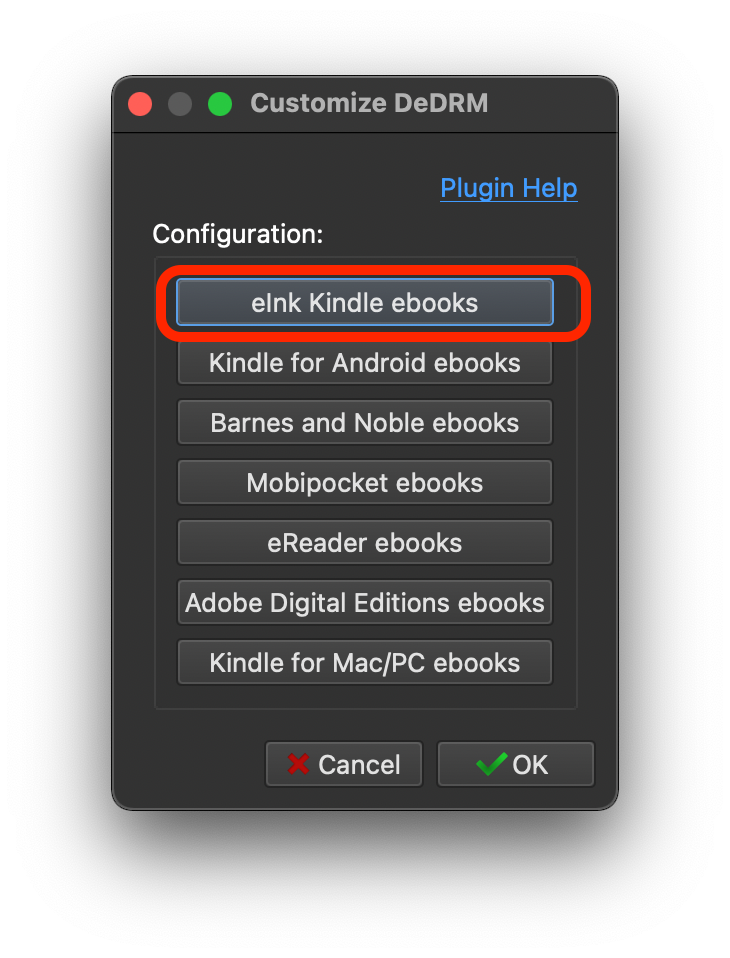 Click on the + sign and add your Kindle Serial Number.
To find your Kindle's serial number, tap Settings > Device info.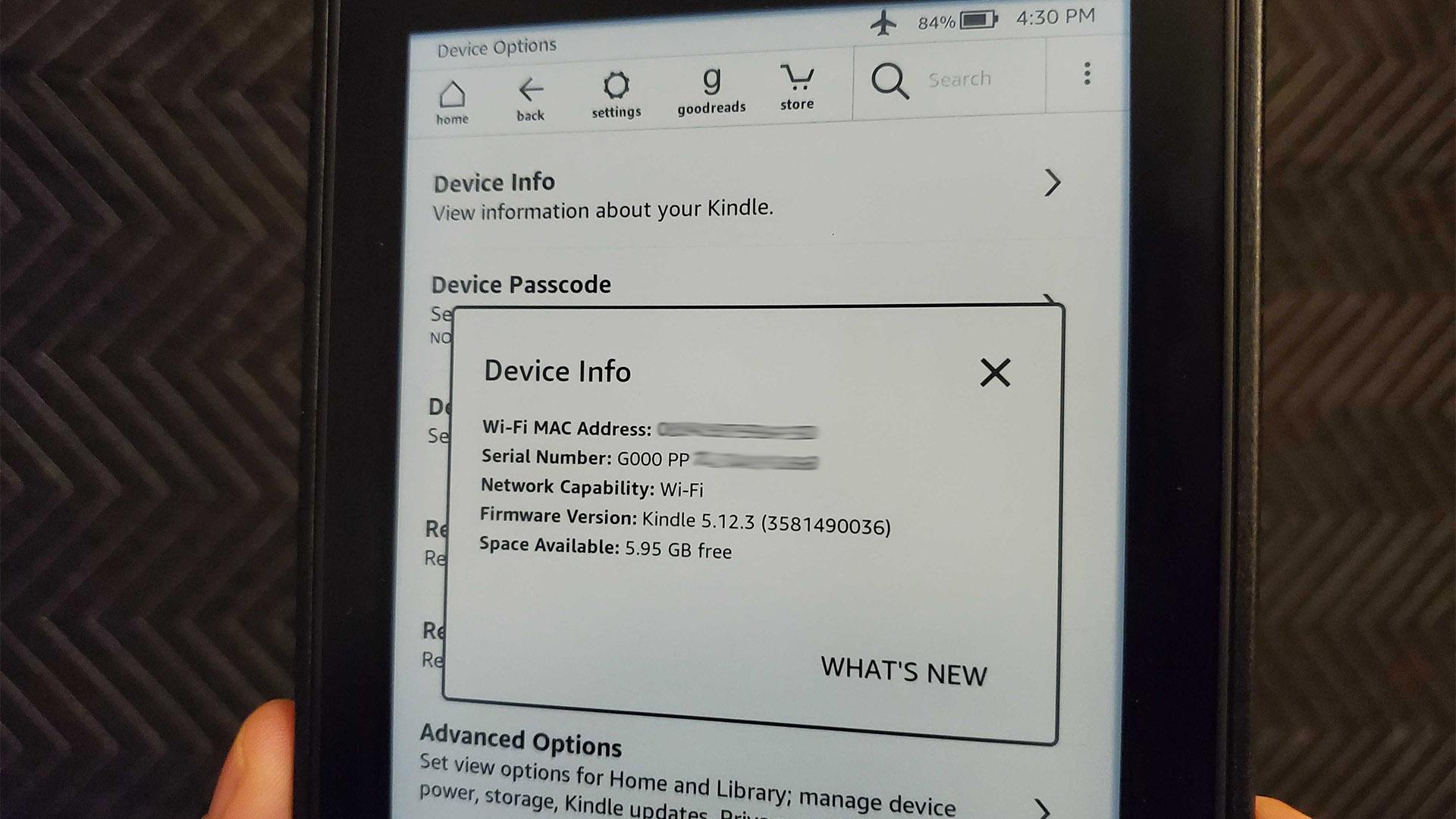 You can find the serial number for your Kindle device by going into Settings.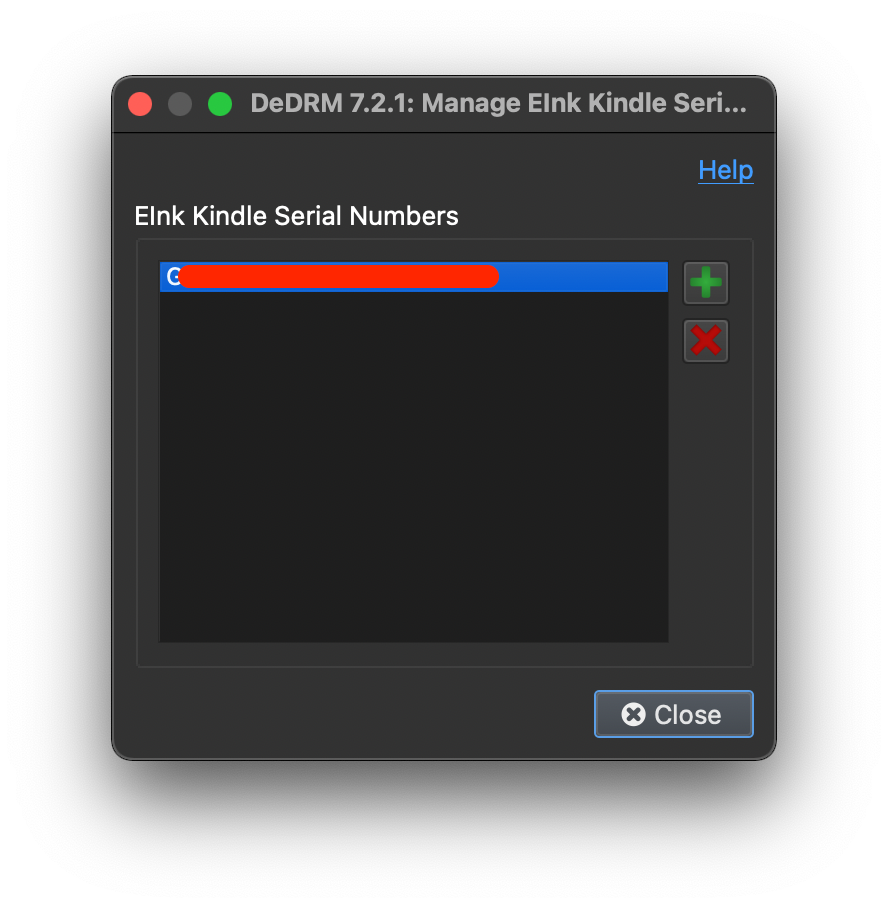 Close the dialog and restart Calibre.
Once DeDRM has been added and configured, we can skip this section the next time we convert a book.
Convert book to EPUB format¶
In Calibre, right click the previously added ebook and select Convert books > Convert individually.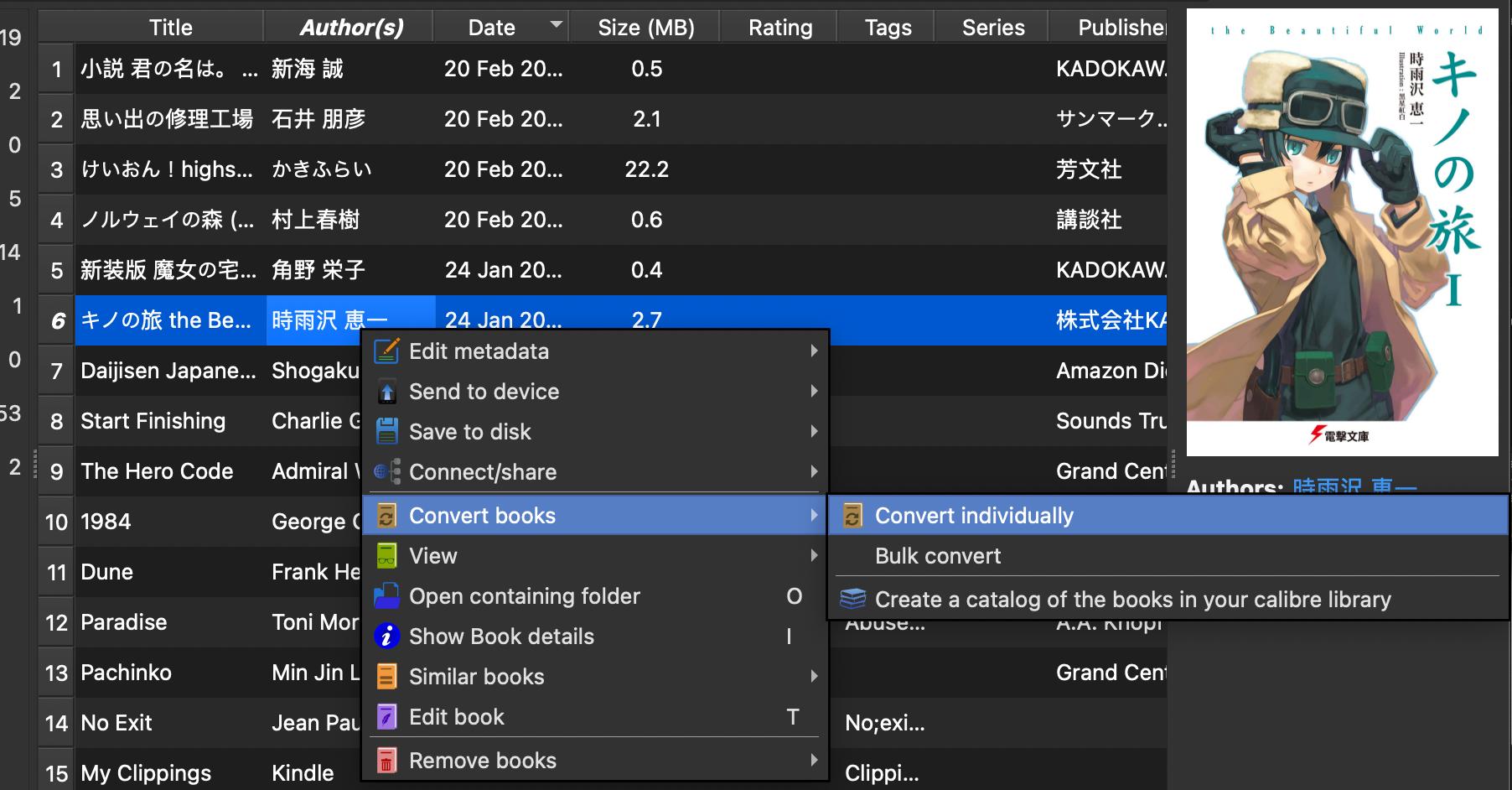 In the top right corner, change the Output format to EPUB.
Cick Ok in the bottom right corner to export.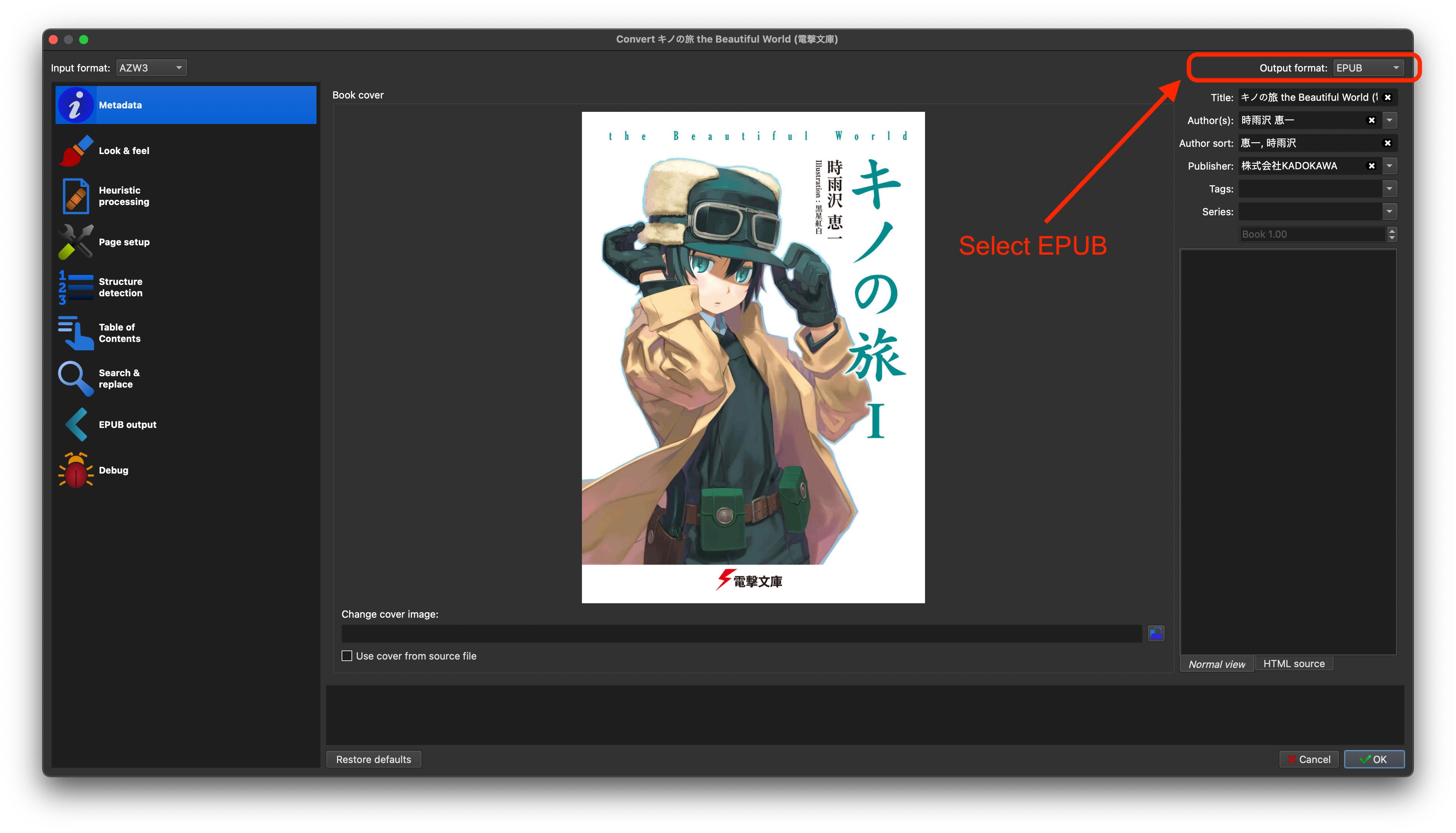 Once export is complete, right click on the book in Calibre again and select Open containing folder.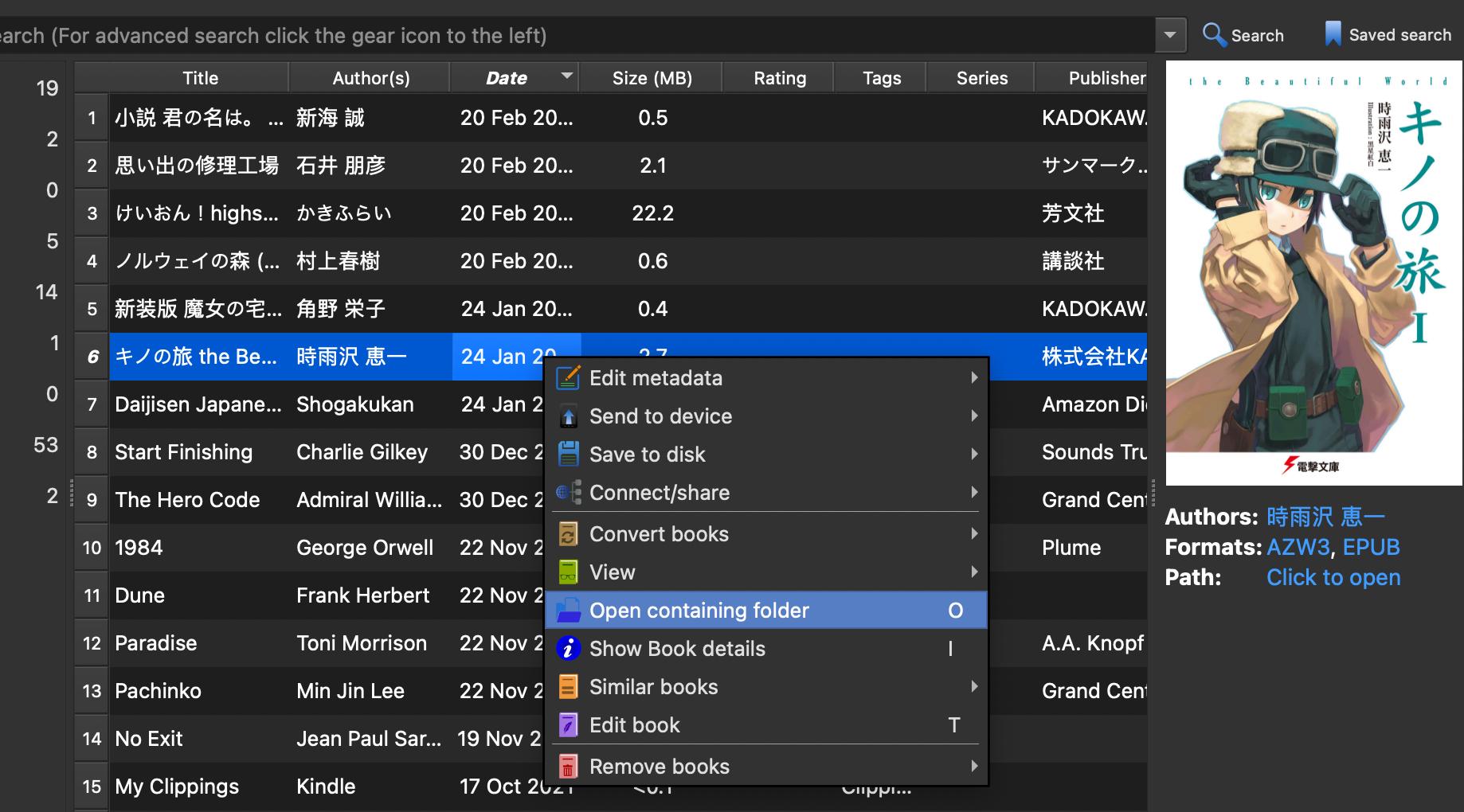 You will be able to move or copy your EPUB file from your folders.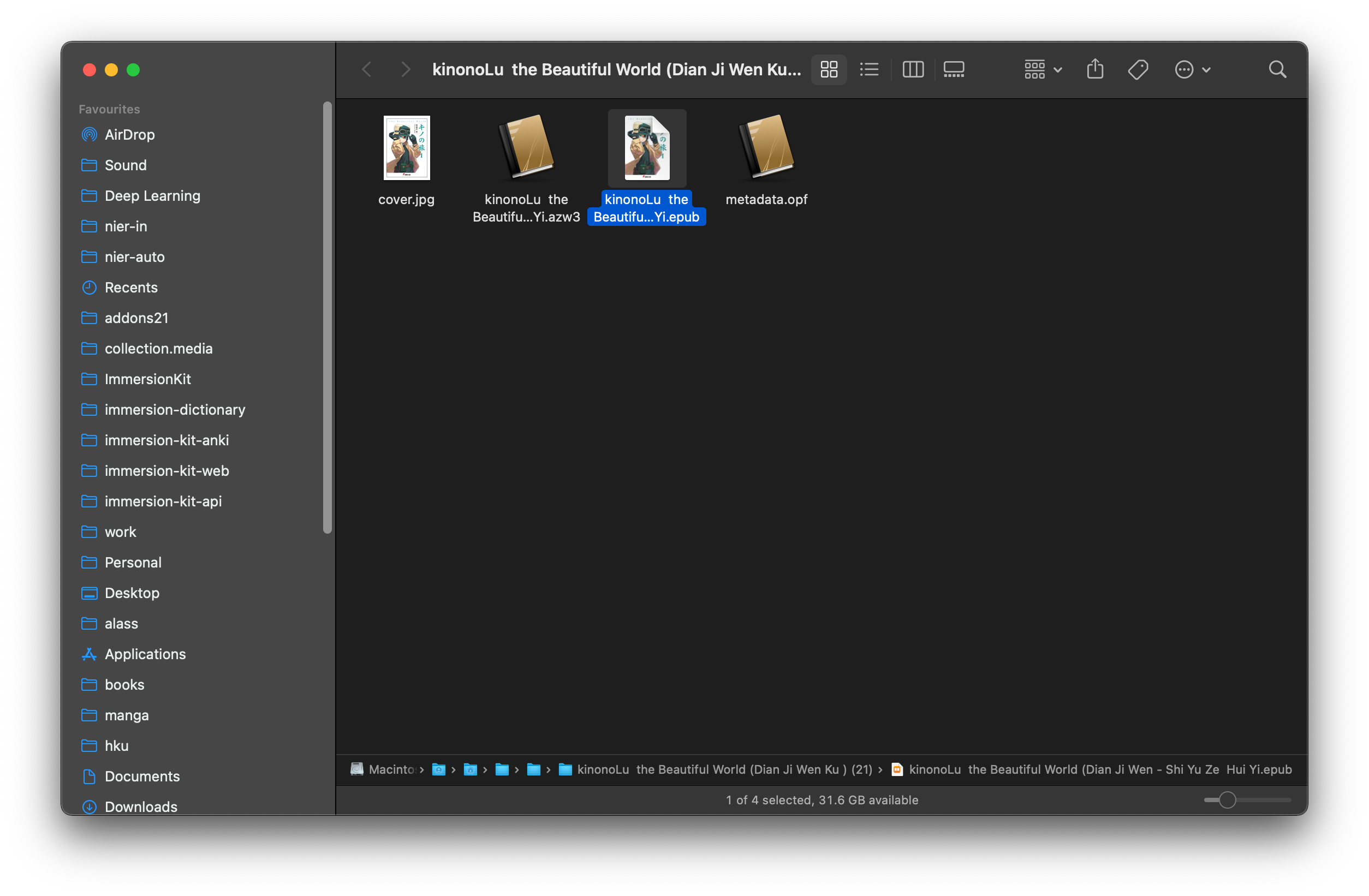 Read EPUB on Web Browser¶
Go to TTU Reader.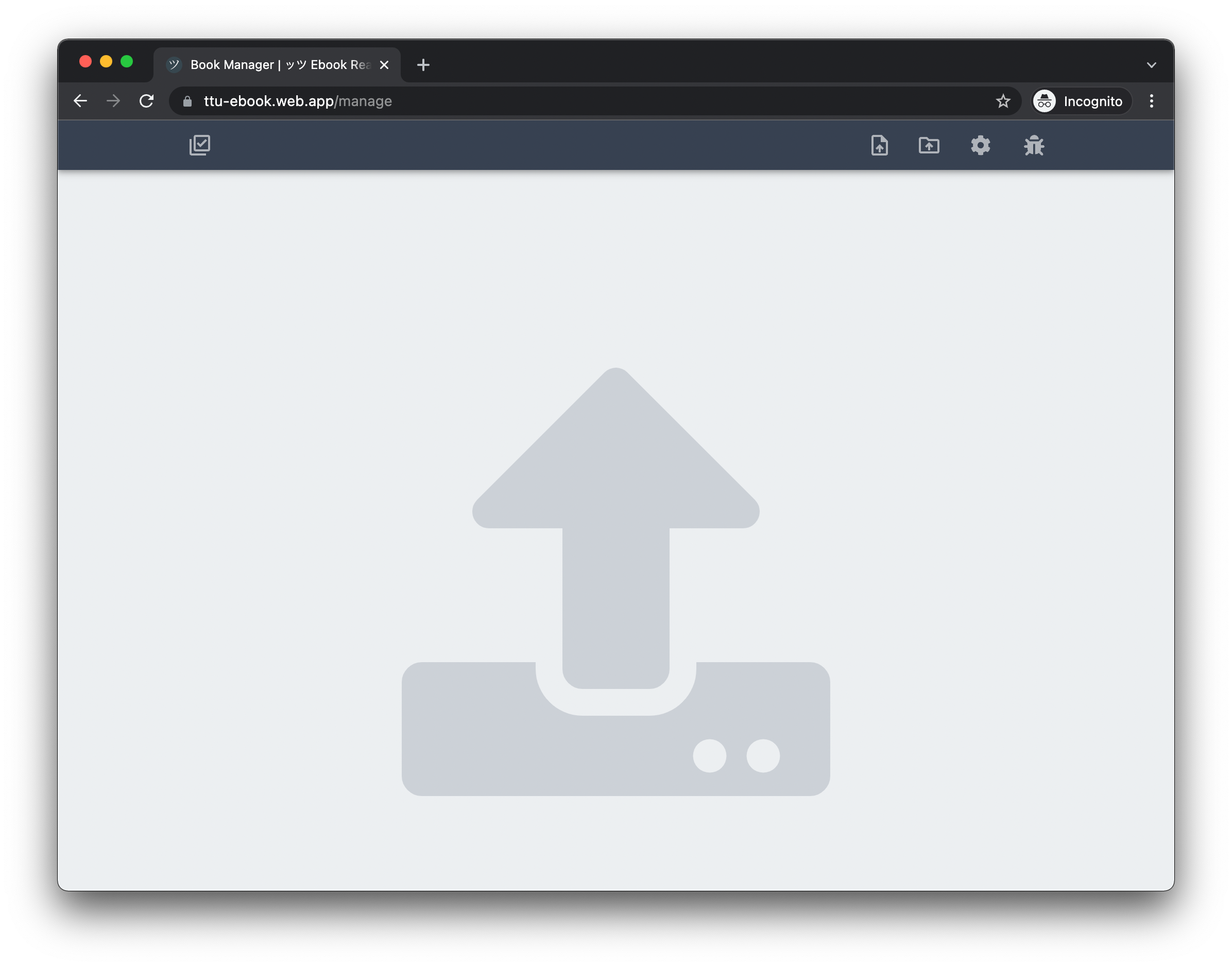 Now drag and drop the EPUB file to the browser.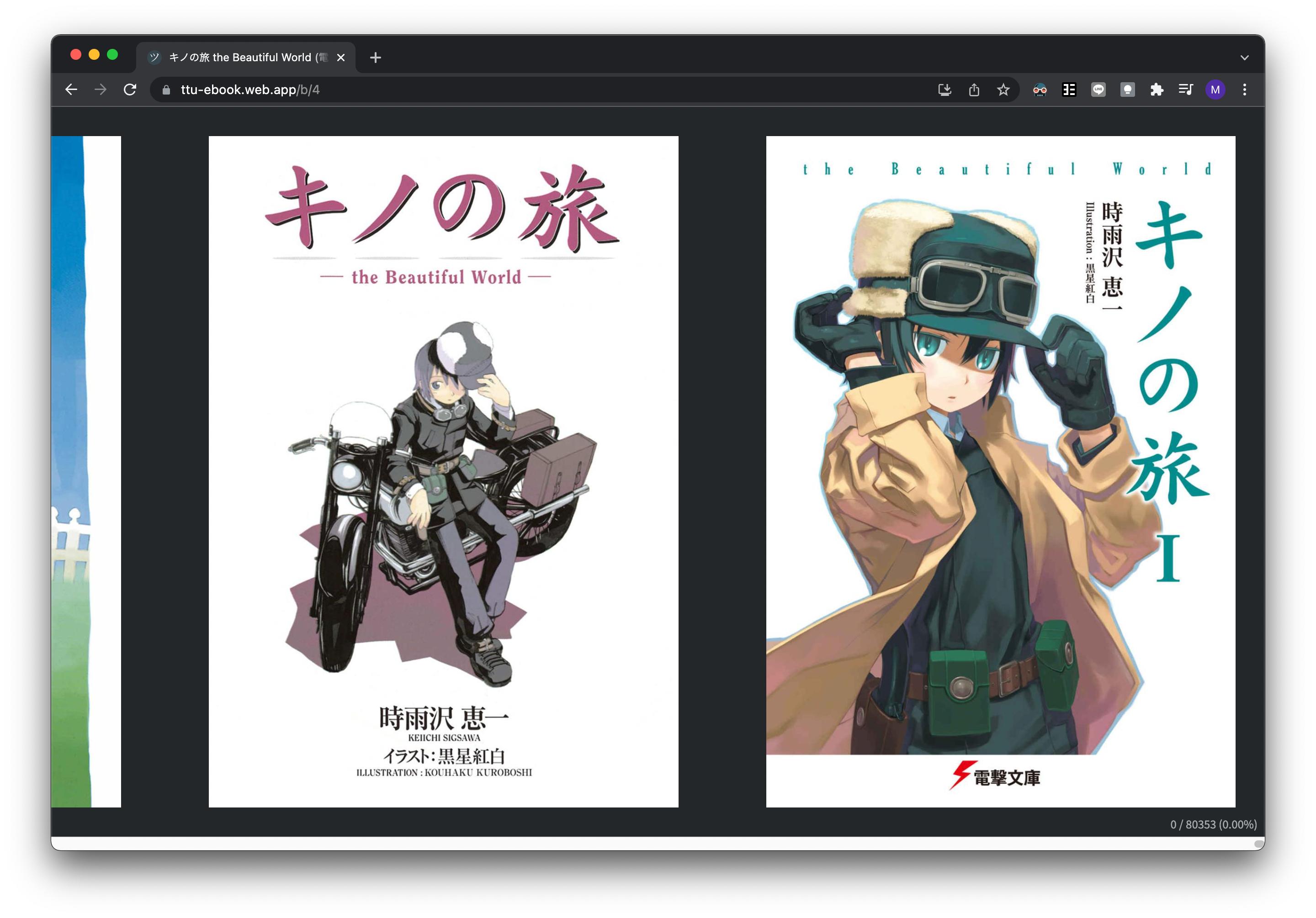 You can now use Yomichan or other popup dictionaries on the book.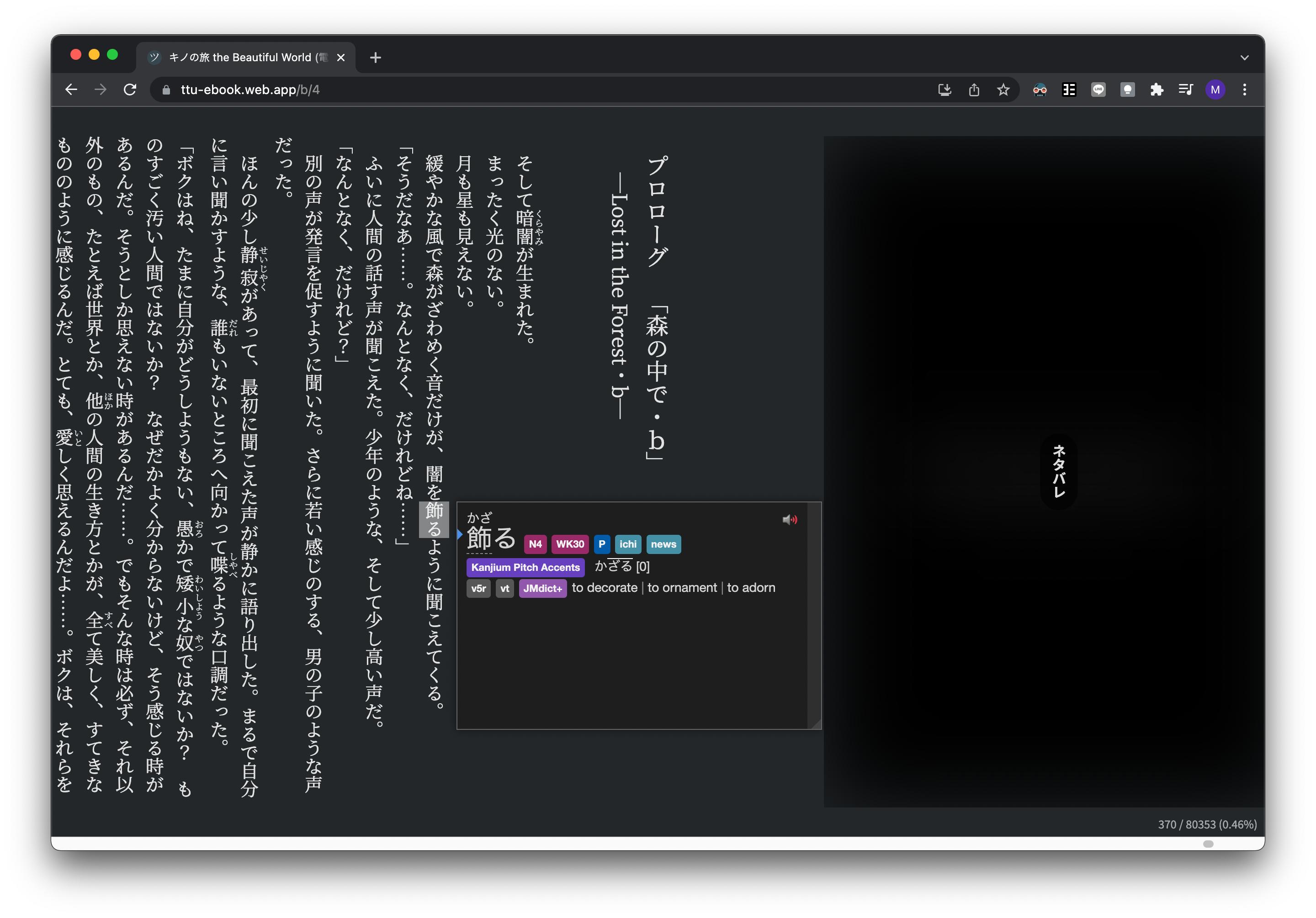 Horizontal text orientation is recommended and could be selected in the display settings.
Enhance LN mined cards¶
After configuring Yomichan's Anki settings and installing AnkiConnect, you can add cards to Anki with a click of a button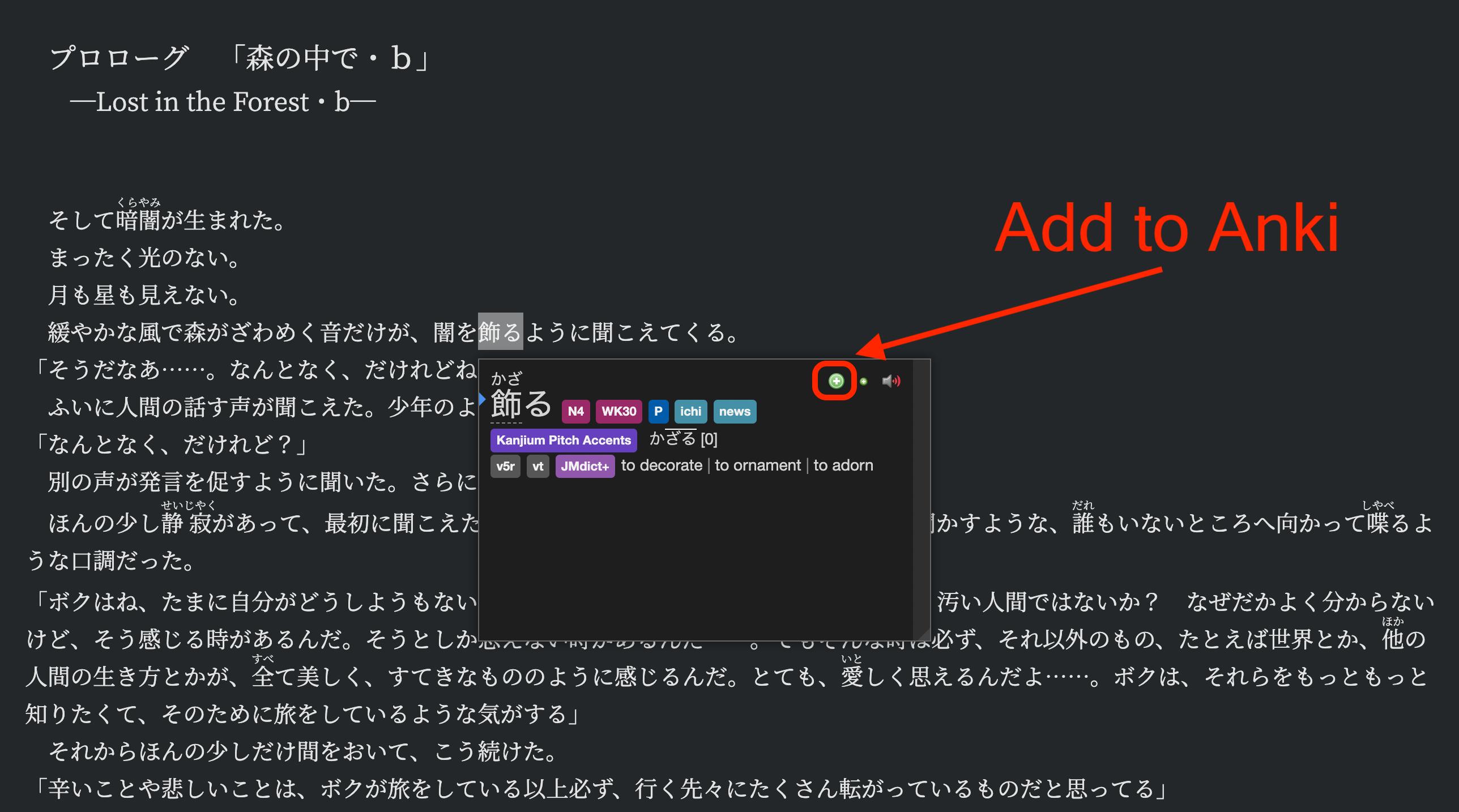 Yomichan can map useful information like the English meaning, Japanese definition, pitch accent, word type.
This is what mine looks like.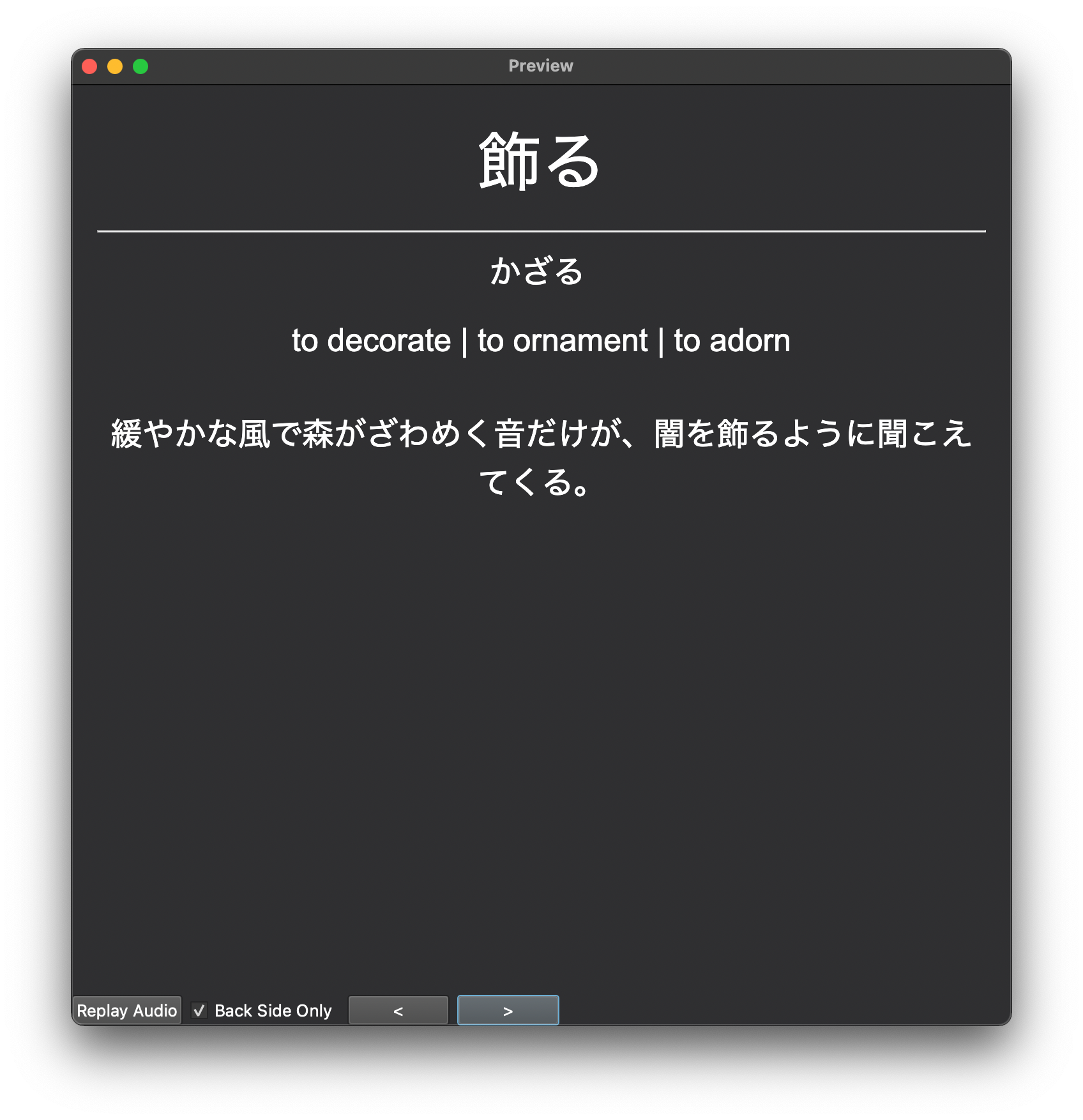 We can build extra context for these cards by adding example sentences from Immersion Kit.
Simply search for a word on the website and find a sentence you like.

In the results, find an example you like. Toggle the Mining section at the bottom of the example.
Click on any one of the fields to copy.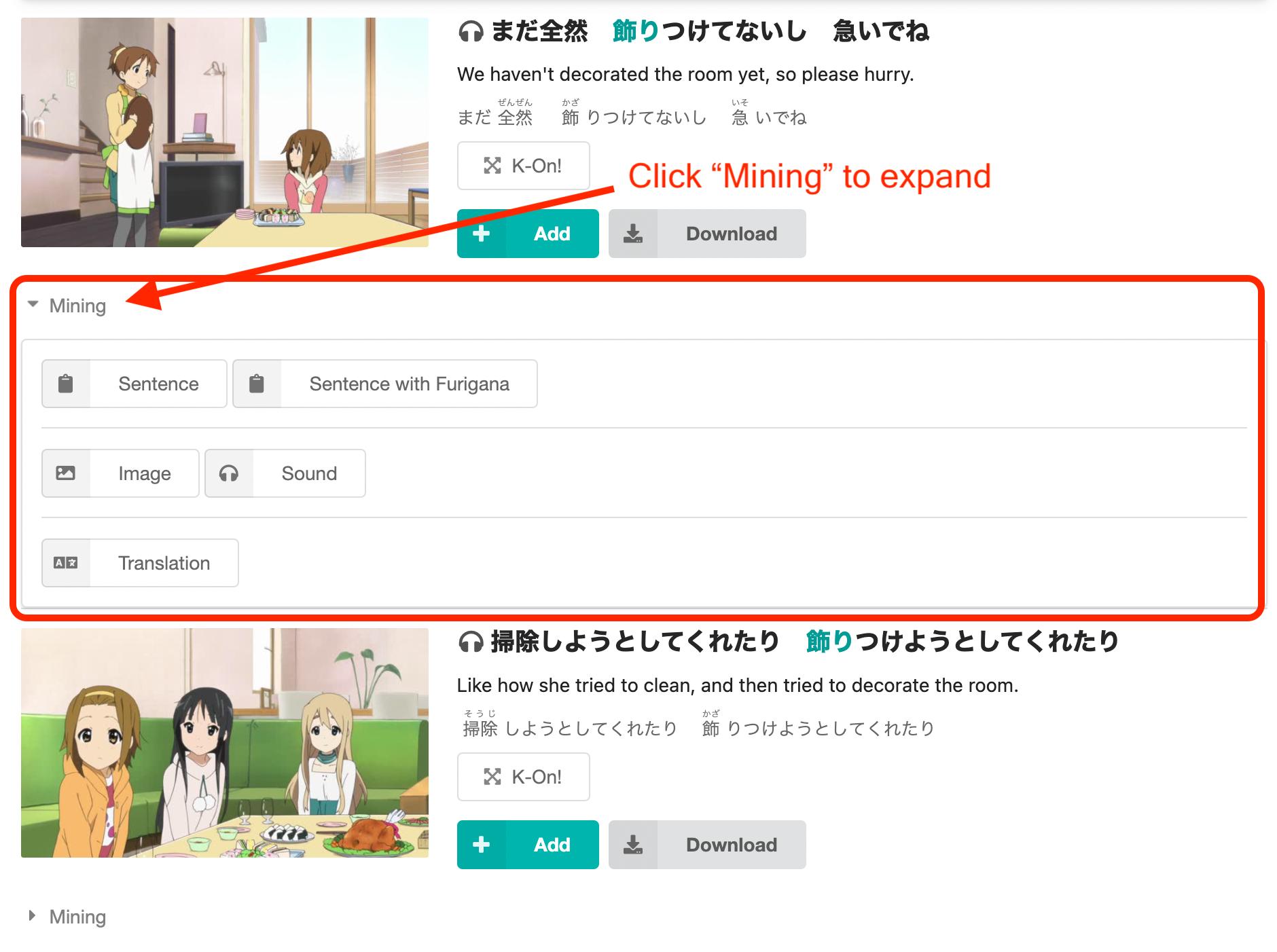 In Anki, paste the content to your fields with Ctrl-V (Win) or Cmd-V (Mac).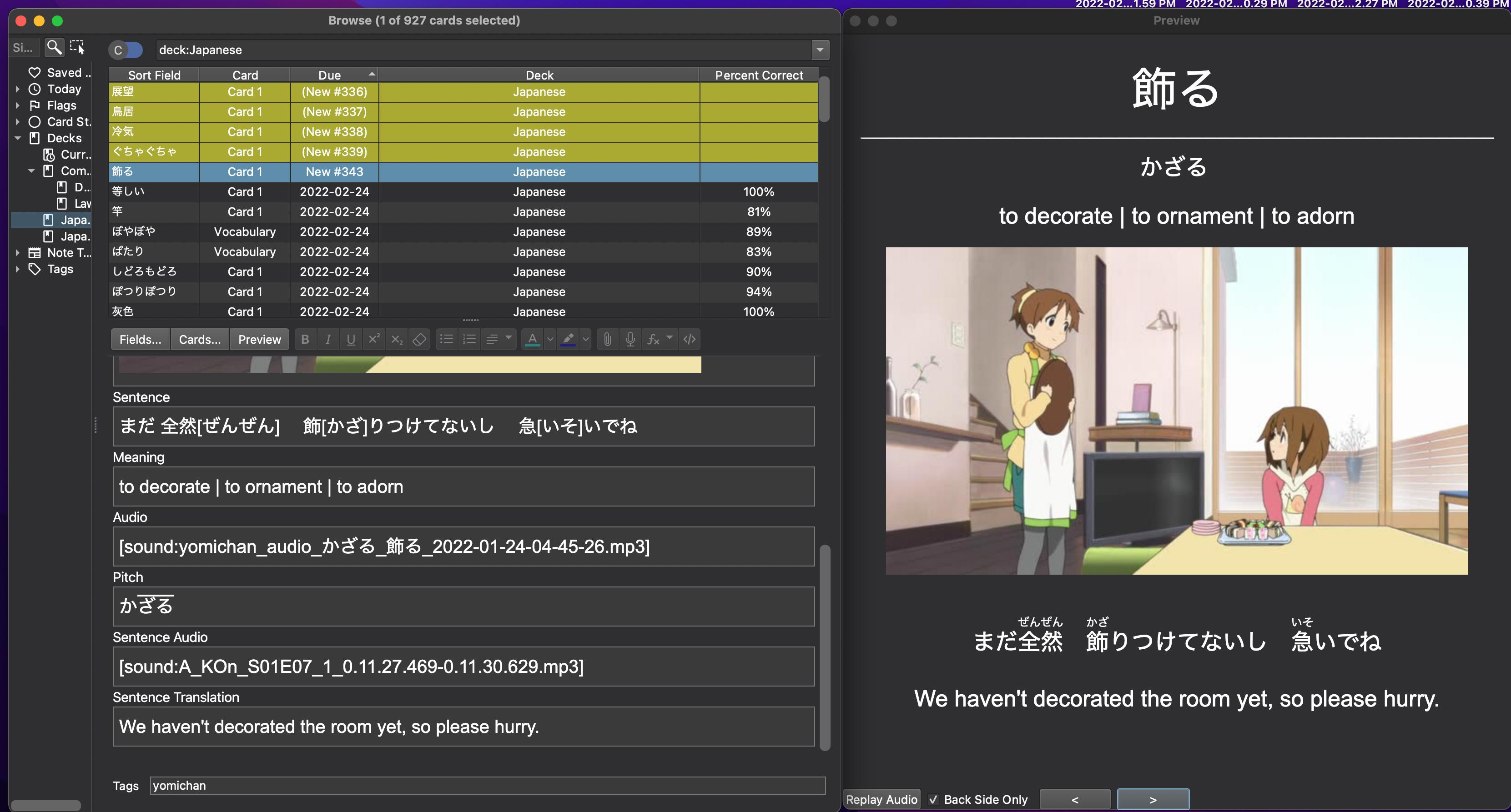 Progress Tracking¶
Unfortunately, TTU reader is not great for progress tracking and bookmarking.
Use Calibre to save your progress or online websites such as Book Meter and Learn Natively.